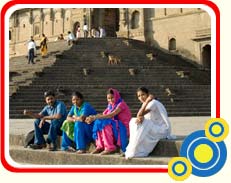 Indore has a glorious past to boast of. It is a popular tourist attraction, which is explored by hundreds each year. With changing times, the people of Indore have adopted the modernization, which is visible in their lifestyle also. But still, they have not forgotten their customs and rituals. Indore has not lost its age old traditional values. This can even be made out from their clothes. While visiting Indore, keep in mind its weather, so that you can decide what to wear accordingly.
It is better to wear cotton clothes, especially when you are visiting the city in the summer season. Even then, remember that the nights in Indore, in summers also, are quite cool and thick night clothes should be preferred. For winter travel to Indore, the attire should comprise of woolens. While deciding on what to wear in the city keep the culture of India in mind, do not wear clothes that are too revealing, especially while roaming around or visiting holy places. In case you are going to high-end bars & pubs, you can take more liberty while dressing up.
The traditional dress of men is white or colored "Kurta-Dhoti". Men wear the attire on festivals and religious ceremonies. Although in day to day life, men usually wear trouser, jeans, shirts, t-shirts, etc. The traditional dress for women in the Malwa region is quite colorful and comprises of "Lugda, Blouse and Lehanga". Women usually prefer to wear sarees. But they have also started wearing Salwar-Kameez, formal and semi formal dresses for office. Jeans, skirts, capris and cargos are also worn by the younger generation.