Indore India shopping places offers great variety to the tourists. Check out where to shop in Indore, Madhya Pradesh.
Indore Shopping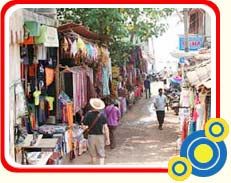 Indore is the commercial capital of Madhya Pradesh. Therefore, there is a lot of commercial activity in the city. The trade and commerce of Indore resembles to that of Mumbai. One of the reasons for that is Mumbai is very well connected to Indore via all transport channels. Therefore all the business activities of Mumbai reflect on the trade of Indore, resulting in it being called Mini Mumbai at times. Shopping in Indore can be fun as the markets here offer a lot of variety to the consumers.
There are a number of shopping places in Indore. Even international shops and showrooms are present here. Indore is also famous for its cloth industry. Fabrics adorned with hand block printing, tie and dye and Zari work are some of the specialties of Indore. Maheshwari and Chanderi sarees are an all time favorite for the people residing here. Apart from this, there are also a variety of local crafts to choose from. In short, Indore is truly a shopper's paradise. You can shop till you drop. Read on to know where to shop in the Indore city of Madhya Pradesh.
Local Shopping
MT Cloth Market
It is popular market for wholesale clothing.
Sitlamata Bazar
It is popular for retail clothing and sarees.
Kothari Market
It is a posh market, with showrooms like Louis Philippe, Raymond, Bombay Dying, etc.
Topkhana
It is popular for big showrooms of readymade garments.
Heritage Market
It is popular for big showrooms like Nike, Lee, Arrow, Van Hussein, Allen Solly, Grasim, Woodlands, etc.
M.T.H. Compound
It is a popular electronic home appliances market.
R.N.T. Marg
It is popular for big departmental stores like Avani, Sanskar Dress materials, etc.
Bada and Chota Sarafa Market
It is famous for all kind of jewelry, delicious sweets, chaat and namkeen shops.
Moolchand Market
It is famous for readymade garments, especially for children.
Siyaganj
It is a wholesale market of hardware, paints and food items.
Jail Road
It is a place mainly for electrical items and tailoring shops.
Marothia Bazar
It has shops for arts and crafts, along with groceries.
Khajuri Bazar
It is a big market for all types of books and stationery items.
Online Shopping