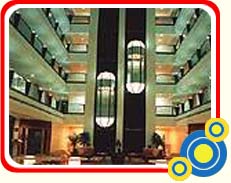 Rating
3 Star
Address
3, R.N.T. Marg
City : Indore
PinCode : 452 001
State : Madhya Pradesh
Acessibility
Hotel President Planet is 8 kms from Indore Airport, 1/2 km from Indore Railway Station and 1/2 km from Indore Bus Stand.
Locational Advantage
Hotel President Planet is situated in the heart of the city and is close to commercial and business centres.
Hotel Description
Hotel President Planet is one of the most popular 3 Star hotels in Indore. It is elegantly designed and splendidly maintained that makes it look like a five star hotel. Hotel President Planet offers a wide variety of facilities, keeping in mind the needs of guests. Each room of the hotel is an exquisitely decorated suite, designed to give comfort to the guests. The hotel also provides various facilities for corporate guests. These facilities include business centre, meeting rooms, board room, and network connectivity in each room.
Accommodation
Hotel President Planet has 84 well appointed rooms.
Restaurants at the Hotel
Hotel President Planet has two restaurants: "Fusion" and "Submarine" and a coffee shop called "Cafe ole".
Amenities and Facilities
Health Club, Business Centre, Restaurant, 24 Hrs Coffee Shop, Six Conference Halls, Garden Banquets, Gym, Health Club, Laundry Electronic Safes, Minibar, CCTV In All Rooms, Internet Connectivity In All Rooms, Multi-cuisine Restaurant, Bar, Banquet Halls, Business Centre, Fitness Centre, 24 Hrs Room Service, In House Laundry, Travel Desk, Car Rentals, Valet Parking.