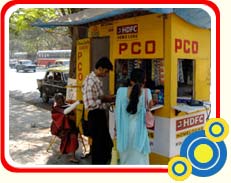 Indore is the largest city in the state of Madhya Pradesh and as well as its commercial capital. This makes the city an important destination. Thus, it becomes important for Indore to have good communication links. Almost all the contemporary means of communication options are available in Indore. Communication is very necessary from traveling point of view too. The numerous communication options available in the city keep you connected to the world, even when you are away.
Telephone Booths
There are a number of telephone booths available in Indore. These are also known as PCO/STD booths. Here, you can make calls to any part of the country. Most of the places also offer ISD facilities also, to keep you connected. The STD code of Indore is 0731.
Cyber cafe
The world has become a global village since the inception of World Wide Web (www). It has become very easy to retrieve information about anything and everything. You can stay in touch with the whole world sitting miles away from your home. Indore is also host to many cyber cafes where you can avail the facility easily.
Post Office
With the advent of Internet, it has become very easy to communicate with the whole world. You can send messages via email to anybody in any corner of the world. Though the technology is advancing day by day, the utility of age-old methods of communication cannot be ignored. Post office is one such medium through which you can communicate effectively even today. They offer facilities like telegram, money order, air mail, etc.
Mobile phones
Another effective medium of communication comprises of the mobile phones. The cellular services have drastically changed the world. Mobile phones keep you connected, even when you are on the move. There are many mobile operators in Indore. So if you are carrying your mobile phones along with you, remember you are just a phone call away from anything.