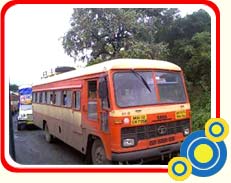 Local transport is the lifeline of any city and keeps it in sync with the pace of the world. Indore faced a major problem of public transport some years back. But the recent developments in last two years, has made the local transportation in Indore, one of the best and cheapest ones not only in Madhya Pradesh, but in the whole country. There are a number of means of transport in Indore which will help you to move around and explore the city. You can choose from these options according to your comfort and requirement.
Bus
The municipal corporation of Indore has launched Indore City Bus services. This bus service covers majority of places in the city as well as its vicinity. These local buses are considered the best in India. The seats in the buses are arranged in variable level. This ensures quality journey for the passengers on the back seats. The bus drivers and conductors are well mannered, neatly dressed and have pleasing attitude. The front seats are reserved for females, making the journey very convenient for women passengers.
The bus stops in Indore carry digital display to show the arrival and departure timings for various buses from that particular stop. This helps the people in preparing their daily schedule as well as save time. As a result, these buses are very popular among the local people. The bus journeys in the city have become very comfortable. As a matter of fact both the government as well as the public is in profit since the inception of these buses.
Other Means of Transport
Mini buses
The mini-buses are popularly known as Nagar sevas. These are used for short distance travel.
Tempos
Tempos are often overcrowded, but provide one of the cheapest modes of transportation in Indore.
Auto-rickshaw
Auto-rickshaws can be hired to go to those places in the city which are not covered by bus services or tempos. They are comparatively comfortable as compared to other means of commuting. They are also expensive than the earlier three modes.
City Van
Indore Municipal Corporation has also launched the Indore city van. It is a seven-seater Maruti Omni. The local government is planning to replace tempos and autos with vans run on LPG, in order to reduce pollution in the city.