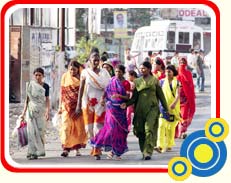 As per historical records, the Maratha warriors were in constant battle with the Mughal Empire. During the war, their army transit camps here attracted the local Zamindars (landlords) for trade. The landlords were lured by the promise of lucrative trade and settled in the villages on the banks of River Khan and Saraswati. This laid the foundation of the commerce center of Indore in 1715. Later in 1741, the temple of Indreshwar was built in the town, from which it derived its name Indore.
Since then the Indore city of India has changed drastically. Today, the major population of Indore belongs to different parts of India. They have actually migrated and settled in the heart of Madhya Pradesh for various reasons like livelihood, education and its peaceful environment. People of Indore are from all castes, creed and color. As a result, Indore boasts of a true cosmopolitan city culture with multi ethnic and multilingual people living in perfect harmony. The local people of Indore reflect the true spirit of unity in diversity.
They are highly social and progressive and present a beautiful blend of all the cultures. The diverse culture is quite visible even in the food habits of the people. The food variety ranges from South Indian 'Idli Dosa, Vada Sambhar' to 'Dal-Bafla', a typical Malwa Food. Indore is famous for its wide variety of "Namkeens'', Gujarati & Chinese food restaurants and Bengali sweets. However, a survey on the food habits of the people has shown that Indore people are prone to diseases like hypertension and heart problems.