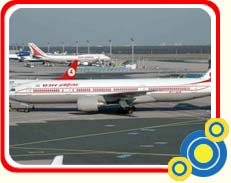 Indore Airport is one of the major airports in the state of Madhya Pradesh. It is situated 8 km to the south-east of the city. The airport is popularly known as Devi Ahilyabai Holkar International Airport, after Ahilya Bai Holkar, the ruler of Indore. The airport has one terminal and both domestic as well as international flights operate from here.
Indore has direct flights to all the major cities of India namely Delhi, Mumbai, Chennai, Kolkata, Bangalore, Hyderabad, Ahemdabad, Bhopal etc. Other than this, there are international flights to Sharjah, Kuala Lumpur and Bangkok. Airport authority of India (AAI) takes care of the Indore airport and supervises the administration. There are a number of facilities provided at the Indore airport.
Once you come out of the airport there are many commuting options available for you nearby, to take you to your destination. There is a Bus stand just outside the terminal, on the Aerodome road. There are a number of buses available here for various places in the city. Just near the bus stop on the Aerodome road, there is a small prepaid booth. From here you can hire taxis to reach you destination. The other commuting option available outside the airport is the auto rickshaw.