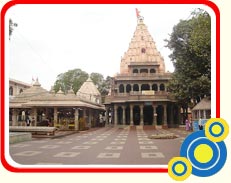 Omkareshwar is a holy town situated at a distance of 77 km from Indore. It derives its name from the sacred Hindu symbol of Om. The place is a pilgrimage site, as there are a number of Hindu temples and Jain temples located here. It is basically an island, in the shape of Om, on the confluence of the rivers Narmada and Kaveri. The island is divided into north and south by a deep gully and is linked by a bridge. A boat ride in Narmada River around the island of Omkareshwar is quite enjoyable.
Omkareshwar is considered to be one of the holiest Hindu sites in the nation. This is due to the presence of the Jyotirlingam, one of the twelve in India. Lingam is the symbol of Lord Shiva but the Jyotirlingam is special. Jyotirlingam is called the lingam of light. It is said to derive currents of power from within itself. While, an ordinary lingam is ritually invested with mantra shakti (power invested by chants) by the priests. The Jyotirlingam is enshrined in the Temple of Sri Omkareshwar Mahadeo.
Also known as the Temple of Shri Omkar Mandhata, it is made up of locally available soft stone. As a result, there is detailed carving in the front chamber and mesmerizing wall paintings on the upper parts of the structure. Omkareshwar draws hundreds of pilgrims every year from various parts of the nation. The devotees kneel before the Jyotirlinga to be blessed by it. Omkareshwar presents a magnificent blend of natural as well as the human artistry. Apart from this, there are some other temples worth watching.
The Siddhnath Temple is a classic example of early medieval Brahminic architecture. The most attractive feature of the temple is the wall paintings of elephants, over 1.5 m high, carved on a stone slab at its outer boundary. The huge Nandi Bull (the vehicle of Lord Shiva) - carved on the hillside opposite the temple of Gauri Somnath, the 24 Avatars and a group of Hindu and Jain temples should not be missed at all.
Even the 10th century Satmatrika Temples and the Kajal Rani Cave situated nearby are worth visiting. Omkareshwar lies on the Ratlam-Indore-Khandwa line and the nearest railway station is Omkareshwar Road. The town is just 12 km from the station and there are many Local buses on the Indore-Omkareshwar route at frequent intervals. Though they are no luxurious hotels, there are a number of Dharamshalas here.