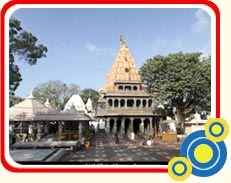 Ujjain is situated at a distance of 56 km from Indore. The city of Ujjain is one of the ancient cities of the country. It is considered to be one of the seven sacred places to attain Moksha. The city attracts a great deal of pilgrims, as it is the abode of one of the Jyotirlingas. Ujjain city of India is located on the banks of River Shipra and exists from the early days of the Indian civilization. It once used to serve as the capital of Avanti and a center of learning. It is also regarded as the Greenwich of Hindu astronomers and astrologers.
According to Hindu mythology, Gods and Demons churned the Ocean to acquire Amrit (the immortal nectar). Once the vessel of Nectar was retrieved, Gods were chased by the Demons and, in the process, some drops of the Nectar fell on Earth. Ujjain is considered to be one of those places. The city, therefore, became an important spot for major religious activities and finds mention in the Atharva Veda and the Skanda Purana. It also served as the host to many renowned historical figures, like King Vikramaditya, Raja Bhoj, Kalidasa, etc.
Ujjain is famous for its Mahakaleshwar Temple. The temple enshrines one of the twelve Jyotirlingas. It is situated near a lake and has five levels. The lingam of the temple is considered as Swayabhu (itself born). Mahakaleshwar temple is located in a spacious courtyard, surrounded by massive walls. It has a finely sculptured tapering shikhara, which dominates the city. Brass lamps illuminate the underground sanctum. Unlike other shrines, prasada once offered here to the deity can be re-offered. On Shivratri, a huge fair is organized here and worshipping takes place throughout the night.
Ujjain is also one of the venues of the Kumbh Melas, the greatest fair that takes place in the country. The fair takes place in every twelve years, in the month of Chaitra. Millions of people come here to take a holy dip in the waters of the River Shipra. It is believed that a dip in the river paves the way to the heaven. Apart from the Mahakaleshwar Temple, the other places worth watching in Ujjain are Bhartrihari Caves, Sandipani (Shri Krishna's Guru) Ashram, Jai Singh ancient observatory, etc.