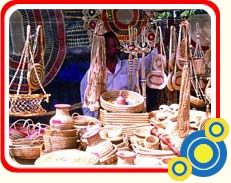 Indore is the commercial capital of the largest state in the country, Madhya Pradesh. It is known for its magnificent monuments, exuberant festivity and blissful solitude. Apart from this, Indore also boasts of a fairly good arts and crafts industry, which has a charm of its own. It exhibits hereditary skills, painstaking craftsmanship and evokes a desire to learn more about the land. The art and craft of Indore are influenced by the neighboring states, but at the same time, they have developed their own distinctive style and individuality.
Hand Block Printing
Hand block printing is among the most important crafts of Indore. The colors used in this process are vegetable and natural dyes like Indigo, turmeric roots, pomegranate skin, lac, iron etc. These substances create a rich yet subtle effect. The natural colors do not fade easily as they permeate the fabric. This gives the fabric an attractive look.
Tie and Dye
The art of tying and dyeing fabric of Indore is also quite popular. The process is known as Bandhani or Bandhej in Madhya Pradesh. This is a delicate technique which represents the earliest forms of resist patterning. In this process, parts of the fabric are tied with thread to make small knots. Then the fabric is dipped in dye. This leaves a colorful pattern on the cloth. In Indore, craftsmen produce exquisite samples of tie and dye.
Batik
Another art form famous here is quite unique. It is known as Batik. It is a resist process in which molten wax is applied on the fabric and then dyed in cold dyes. Batik is done on quite a large scale in Indore. Multi-colored Batik sarees of Indore are popular for their varied design and attractive color contrast and schemes. Other than sarees, dress material, bed sheets, lungis, dupattas etc. are also made here.
Jute Industry
Besides cotton, Jute is the cheapest and most important of all textile fibers. It is used on a large scale in the manufacturing of different types of packaging material for agricultural and industrial products in Indore. Jute has a coarse character, natural color and heavy texture. It exhibits an earthiness which has a unique charm of its own. Jute handicrafts available at Indore includes items like hanging lamps, baskets, flower vases, swings, hammocks, purses, table mats, footwear etc.
Zari Work
Indore has a wide variety to offer in terms of its craft work. On one hand, it offers handicrafts in crude jute and on the other hand, it also practices one of the most delicate art works called Zari work. The craft of Zari work is very intricate as well as fragile. Practiced in Indore, it is famous for its exquisite craftsmanship.
Zari work originated around 300 years back and is usually practiced on sarees. In this process, hand embroidery using gold thread is done on the fabric. This gives a very fine as well as a rich look to the cloth. Today, apart from traditional articles, modern purses, bags, tea cozies, and "jutties" or slippers are also adorned with Zari work to provide more variety to the consumers.
Stuffed Leather Toys
Another most famous craft in the region is stuffed leather toys. These toys are available in various forms and sizes. They are skillfully crafted and casually painted to look very attractive. Craftsmen in Indore specialize in making leather shoes, jutties, leather bags, mushk, etc. But with time, the craft has evolved and new leather articles have come up. Today, Indore is even making leather garments on a big scale.