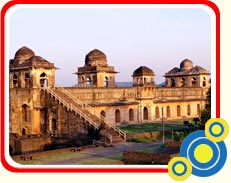 Mandavgarh is situated at a distance of about 90 km from the Indore city of Madhya Pradesh. Popularly known as Mandu, the town is located amidst the Vindhya Ranges, at an elevation of 2000 feet above the sea level. It was originally founded in the 10th century by the Parmar rulers who made it their fort capital. Later, it was conquered by the Delhi Sultans, who named it as Shadiabad, meaning the "City of Joy". There are a host of historical monuments here which are constructed on the fusion of Hindu and Afghan style of architecture.
Mandavgarh is famous for its amazing Fort. The fort is 82 km in perimeter and is considered to be the biggest in India. It contains the ruins of palaces, ornamented canals, baths, pavilions etc. The fort was once the monsoons retreat of the Mughal emperors. Mandu has over 40 monuments which are divided into three broad categories: the Central Village Group, the Royal Enclave Group, and the Rewa Kund Group. The city is also famous for the legendary romantic tale of Rani Roopmati and Baz Bahadur which still haunts the place.
Champa Baoli - a well, the huge 15th-century Jami Masjid, the beautiful Jahaz Mahal (ship palace), Hindola Mahal or Swing Palace, the romantic Baz Bahadur's Palace, Roopmati's Pavilion and Hoshang Shah's Tomb are some of the unique gems of architecture and must see tourist spots of Mandu. It is believed that Emperor Shah Jahan took the inspiration of building Taj Mahal from the tomb of Hoshang Shah only. Mandu is an ideal place to be visited in the monsoons, when the weather is pleasant and surroundings blooming.
The mystical beauty of the monuments, amidst the sprawling lush green landscape and the purple sunset sky, paints the live picture of the bygone era. The effect is completed by the rich surroundings of mango, tamarind and banyan trees. The place is also famous for its 'Khusrani Imli', tamarind trees which bear fruit only in the rainy season and juicy custard apples. Mandu can be reached via taxis, available from Indore. You can buy beautiful Chanderi and Rewa [Maheshwari] saris here, as well as some medicinal herbs and local handicraft.