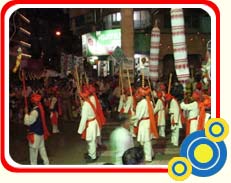 Owing to its rich cultural background, Indore Festivals are celebrated with great zest and are one of the main attractions of the city. Though growing westernization has been a reason behind the celebration of events like Valentine's Day, Friendship Day and New Year's Eve, Indore has not lost its traditional values. The city still celebrates a host of traditional festivals which originated centuries back. All national festivals, like Diwali, Holi, Eid-ul-Fitr and Rakhi, are also celebrated in Indore with the same enthusiasm as in the other parts of Madhya Pradesh as well as India.
Ganesh Chaturthi is celebrated quite differently in Indore city. Earlier, when textile mills flourished here, the workers of the mills contributed money and labor to arrange a carnival of floats ("Jhanki") and celebrated the festival with great pomp and show. Another festival celebrated here is Makar Sankranti, also known as the Kite Festival. The sky over Indore is rendered colorful as people fly kites and organize competitions on this day. It is celebrated on 14th January each year. Some other major festivals celebrated in Indore are.
Anant Chaudas
Anant Chaudas is celebrated around the month of September. On the night of Anant Chaudas, large processions are taken out and huge idols of Lord Ganesha are immersed in water. The festival is celebrated with great enthusiasm by the people.
Rangapanchami
Rangapanchami is celebrated five days after Dulendi or Holi, but it is not the usual Holi colors that paint the atmosphere around, rather it is the color of music that fills the air. Indore has its own style of celebrating Rang Panchami. Here, it is celebrated like Dulendi, but colors are mixed with water and then poured on others. On the event of the festival, the local municipal corporation sprinkles color mixed water on the main streets of old Indore. Earlier, they used Fire Brigade vehicles for this purpose. Rangapanchami is an age old festival, which was celebrated during the Holkar reign and continues to be celebrated till date.
Ahilya Utsav
Ahilya Utsav is an annual festival celebrated in Indore. It is celebrated to commemorate the death anniversary of Rani Ahilya Bai, the brave queen of Indore.
Navratri
Though Navratri is celebrated throughout the country, it has a special relevance for the people of Indore. The temple of Bijasen Mata is located on a small hillock called Bijasen Tekri. In the months of September/October, during Navratri, a fair is organized at this temple. It attracts pilgrims in huge numbers.
References: